Posted August 13th, 2018 by hiwayhowie
COP on the Hill
Stories from the week of August 10, 2018
New Orleans in August. Really?! The annual ALEC – American Legislative Economic Council. ALEC.org (Federalism, Free Markets, Limited Government) was held this week and my ace advisor Don Murphy of MPP said it is THE place to see/chat with hundreds of state senators, reps and other VIPs. So, COP split the cost of the booth, hotel room etc. to make the pitch.
As usual, Don's advice was spot on. Not just the quantity but also the quality of the chats; 5-8 minutes with most. I brought many to the table with, "Hey, would you like to know why?" and point to the COP sign. (some saw the sign ahead of time and scurried past eyes glued to the opposite side of the room).
On the other hand, I met and had a chat with White House Domestic Policy Advisor Brooke Rollins. All good. (first foto)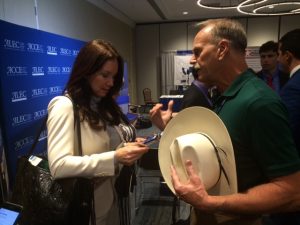 I saw that shirt at Stonehenge this spring: During the 2nd night's reception an Indiana prosecutor approached and asked what were the odds of seeing that unique T-shirt 2x in one year. Her foto showed my backside. She about fainted, when I showed her my foto of Stonehenge (below). She took a selfie of us and then had an excellent chat on status of the War on Drugs, along with two other county prosecutors.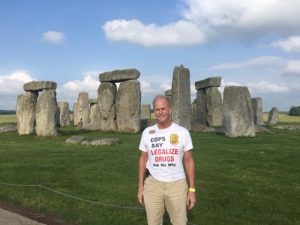 This week's stats:
346 chats with other elected officials, state reps, senators, VIPs, etc. 92 this week
30 major conferences attended – (UN drug conference, CPAC, LULAC, NRA, CBC, ASA, DPA, Dem & Repub. Presidential conventions., National Review, Republican Annual Retreat etc.) 01 this week -ALEC
Don had dozens of chats but i am not able to bring up a foto…so one from the past..chat w/ US Senator L. Graham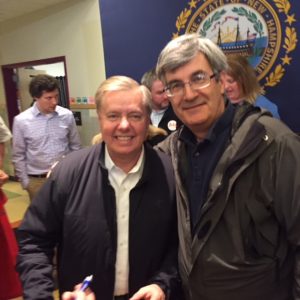 COP stats since inception: August 2009
2891 Presentations to Congressional staffers… this week
273 personal chats with a Member of Congress… this week
1 Meetings – meetings, hearings, etc.
78 Appearances/Interviews on major TV/Radio/Print media. 00.. This week (Fox, ABC, CBS, NBC, Univision, BBC, CNN, NPR, German, Swiss, French, Spanish TV and radio)
84 Radio Interviews. 0 this week
152 interviews and reports in minor media = 0 this week.
Weekly attendance at Grover Norquist's Wednesday brunch attended by 150 conservative leaders. Named the "Grand Central Station of the Conservative Movement."
* 2 editorials in daily papers mentioning Howard's efforts & in support of COP position
84 published letters to the editor (value per MAPINC in free publicity: $83,000) 0 this week
43 published interviews/foto in major (daily) newspapers or magazine… 0 this week
* Consider being a member of COP at $40.00 or more per year. All contributions are tax-deductible. 40 dollars buys all the copy paper COP uses in one year. Law Enforcement's voice in opposition to current policy is vital on the Hill to achieve a repeal of federal prohibition. COP provides that voice. www.citizensopposingprohibition.org